Your invitation to participate
On behalf of the 2019 Organising Committee we are delighted to invite you to participate in a pre-meeting workshop – Axilla Splinting for Senior Clinicians, facilitated by Stephanie Wicks, Claire Toose & Rhi Thomas.
---
Burn scar contractures involving the axilla region are one of the most challenging areas to manage for Burns Therapists. Traditionally splints designed to stretch the axilla have been limited to positioning at mid-range shoulder abduction to minimise the risk of neural compromise. There is still no consensus regarding the best time to initiate splinting, optimal positioning for axilla contracture prevention and for how long splinting should continue to optimise outcome without compromising safety. The aeroplane splint has been described in the literature with positioning of the axilla at approximately 90 degrees of abduction to maintain a stretch on the axilla region. Splinting in this position does not address preservation of range beyond this mid-range position which can be difficult to achieve through exercise alone, particularly in paediatric patients. A recently completed 10-year retrospective review of outcomes from our paediatric burns centre using early end of range splinting for axilla burns in paediatric patients has shown very good functional outcomes with very low rates of surgical release required in the first 24 months post burn and no lasting neurovascular complications recorded.
Splinting the axilla towards end of range abduction from the acute stage of wound healing and continuing through all stages of scar development to maturation will be presented as an alternate treatment option to traditional splinting. Outcome data related to the efficacy and safety of this splinting in a paediatric cohort will be presented and attendees will have the opportunity to learn how to fabricate the splint and design a splinting regime aimed at preventing axilla contracture. 
Learning Objectives
Describe the current evidence related to splinting of the axilla region and list important safety considerations in splinting this area
Design and fabricate an end of range axilla splint for use in paediatric patients from both POP and thermoplastic splinting materials
Prescribe a splinting regime using the end of range axilla splint aimed at preventing contracture while minimising risk of complications
Stephanie Wicks is a Senior Physiotherapist who has worked for over 16 years in paediatrics at The Children's Hospital at Westmead (CHW), Sydney. For the last 9 years she has worked exclusively for The NSW Paediatric Severe Burns Injury Service at CHW. Stephanie was awarded a Churchill Fellowship in 2016 and travelled internationally to investigate strategies to improve the access to specialist burns rehabilitation for rural and remote children in NSW. While visiting burns units across the USA and Canada it was noted that despite significant progress in the rehabilitation of paediatric burns survivors, there is still no clear consensus on what are the most effective methods of managing burns scar contractures. In response to this key finding, research was undertaken within the unit to evaluate and report on the use of end of range axilla splinting in a tertiary burns centre. Based on the positive results of a 10 year retrospective review of the safety and efficacy of end of range splinting of axilla burns at CHW, a workshop has been developed to offer this technique as a possible treatment option for therapists managing contractures of the axilla region. This workshop will be presented for the first time at the American Burns Association ASM in Las Vegas in 2019 and will be presented in Australia at the ANZBA 2019 ASM.
Claire Toose is a Senior Physiotherapist who has worked in Burns and Plastics at the Children's Hospital at Westmead for 12 years, treating children following burn or trauma injury through both the acute and long term stages of rehabilitation. As well has her clinical work, Claire has also been involved in research and training, presenting at conferences and education days on the research findings and clinical practice of the unit. She has been extensively involved in the Murrumbidgee Project working as part of a team to develop a structured service for paediatric burns in the rural setting, training staff at peripheral centres in the specialist management of burn injuries in children, and providing ongoing support and education for rural therapists. Claire has been involved in the review of the use of end of range splinting in the management of axilla burns at CHW and will be attending the American Burns Association ASM in April 2019 to present a workshop on axilla splinting alongside her colleagues. She is excited to then present the workshop for the first time in Australia as part of the ANZBA 2019 ASM.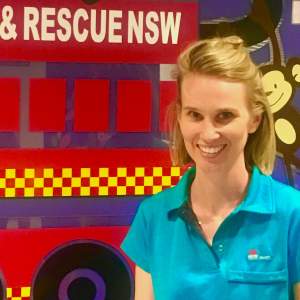 Rhi Thomas is a physiotherapist with over 10 years of experience in paediatrics. In 2018 she completed a Master of Research reporting on outcomes of early and intensive end of range axilla splinting to prevent contracture following a burn injury in children. Rhi will commence a PhD in 2019 focusing on range of movement and functional outcomes of intensive splinting following hand burn injuries in young children.