International Speaker & Cafe Sponsor
BOOTH 06
Mölnlycke is a world-leading medical products and solutions company that equips healthcare professionals to achieve the best patient, clinical and economic outcomes. We design and supply products and solutions for use in wound treatment, pressure injury, infection prevention and surgery. Our products and solutions provide value for money supported by clinical and health economic evidence.
BOOTH 12 & 13
We are a global medical device company that delivers improved patient outcomes through the use of our NovoSorb™ biodegradable polymer technology.
NovoSorb BTM (Biodegradable Temporising Matrix) is a wound dressing intended for treatment of full-thickness wounds and burns where the dermal structure has been lost to trauma, or damaged requiring surgical removal, and requires a split-thickness skin graft for final closure.
Improving outcomes. Changing lives
BOOTH 05
Stratpharma Switzerland
Swiss company Stratpharma has developed breakthrough treatments for faster wound healing, abnormal scar prevention and treatments that are now available in over 50 countries. These medical devices are clinically proven to be effective and easy to use alone or in combination with more invasive therapies.
Stratpharma's range includes: Stratamed – the advanced film-forming wound dressing that provides an optimal wound healing environment; Strataderm – professional scar treatment; Stratamark – for the prevention and treatment of stretch marks; Stratacel – the wound dressing for use after fractional and resurfacing procedures.
T 1800 567 007
www.stratpharma.com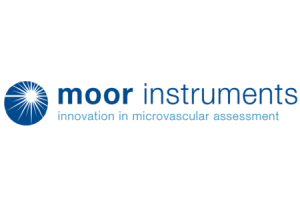 BOOTH 09
Moor Laser Doppler Imaging
Accurately diagnosing the severity of burns has always been difficult, even for experienced clinicians.
Moor Instruments offers a solution by providing a choice of Laser Doppler imagers to assist with your treatment decisions.
Moor imagers assess and map skin blood flow – clinically proven to relate closely to the healing potential of burn injuries.
Your local ANZ Partner for Moor imagers, service, installation and training is SDR Scientific. SDR Scientific is proud to have been awarded Distributor of the Year by Moor Instruments for a number of years in a row.
Please visit us at Booth 10 for more information.